2018 NBA playoffs bracket – The last 16 Teams
The NBA playoffs are here!
Yes, the matchups are set, and they are glorious. We've got a stacked Western Conference, where the Rockets have to face a team with two All-Stars in Round 1 despite being the No. 1 seed. And over in the East, the team everyone is expecting to win is the No. 4 seed Cavaliers.
Here's a look at the full playoff bracket, with an NBA Jam theme for the vintage video game crowd: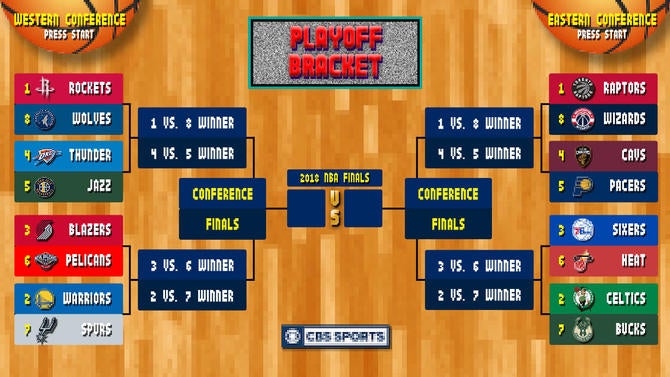 To recap those matchups — and click for full previews:
NBA Western Conference Playoff Bracket
1. Rockets vs. 8. Timberwolves
4. Thunder vs. 5. Jazz
3. Blazers vs. 6. Pelicans
2. Warriors vs. 7. Spurs
NBA Eastern Conference Playoff Bracket
1. Raptors vs. 8. Wizards
4. Cavaliers vs. 5. Pacers
3. 76ers vs. 6. Heat
2. Celtics vs. 7. Bucks
<! -- #comments -->